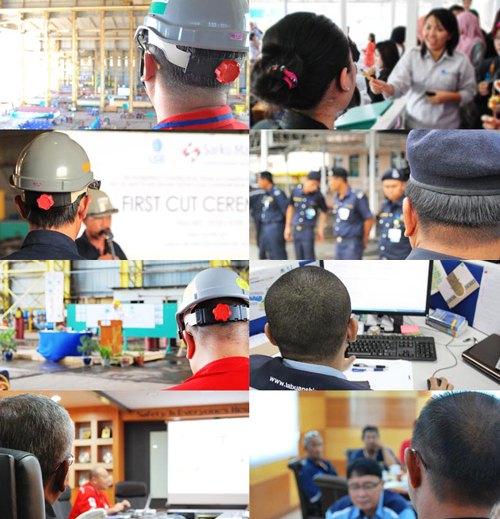 PEOPLE – our most valuable resource.
As one of the largest private employers on the island of Labuan Federal Territory, we know that our people are-and will always be-the key to our success.
Appreciative of the fact that each one of them possess individual talents and experiences, we understand the significance of practicing diversity and inclusion at our workplace. With this in mind, we provide a safe workplace environment that promotes collaboration, teamwork and respect towards each other's cultural value, and support opportunities for personal and professional development.
At LSE, you will be working with our strong team of highly talented, professional, diligent and motivated individuals who constantly strive to give their personal best in everything they do. A rewarding and satisfying career whilst maintaining a healthy work-life balance awaits you when you join us.
---
We invite suitably qualified individuals to apply for the following vacant positions:
POSITION
MAIN JOB RESPONSIBILITY
REQUIREMENTS
Estimator

Commercial Department
Receive requisition for estimate from client in the form of details work specification (prepared by the client), brief description without details (prepared by the client), telephone conversation, discussion in person, site, onboard visit or inspection conducted by project.

To prepare and present repair work specification

To work out cost estimates on proposed work scope

To source, enquire and obtain quotation, price from suppliers/vendors/manufacturers on materials and equipment

To prepare estimates for all additional work required for ongoing project/repair

Monitor works in progress in order to have better picture of accessory works etc. Attend
progress/clarification meeting when necessary

To prepare Post Estimate on actual work done immediately after receiving worklist from Shiprepair Department

To counter check subcontractor quote against workdone list to ensure all quoted items are captured/priced in the workdone list

To assist response to any clanification from clients on the post-estimate/final bill for the repair works

To perform any other duties as instructed by superior (Manager/Senior Executive)
Degree / Diploma (Technical/Engineering)

2 years in technical field especially in shiprepair/ship building and rig
conversion works

Computer literate. Resourceful and able to work long hours and under under pressure to complete the quotation before due date. Good technical knowledge in ship system and ship repair works
Electrical Engineer

Maintenance Department
To ensure and maintain good conditions of electrical facilities and maintain good housekeeping

To ensure all spare parts available according to spec by participation/endorsement in TBE

To prepare repair and servicing schedule, daily weekly & monthly report

To Monitor assigned daily work scope and breakdown repair progress

To keep track on maintenance record such as breakdown, preventive and servicing routine

To monitor yard operation duties day and night shift

To carry out trouble shooting on all breakdown report

To carry out in house work requisition by other department and section

Perform any other works as may be assigned by head of department from time to time
Diploma or Degree Electrical/Electronic

Five (5) years working experience

Chargeman A4 is an advantage
Machinist
Yard Operation Department – Machine Shop
To carry out all machining work, manufacture parts and etc

Routine maintenance of the machines and equipment in the machine shop

Maintains safe operations by adhering to company's Safety Procedures & Regulations

Maintains quality standard by adhering to company's Quality System

Perform any other Works as may be assigned by Head of Section from time to time
SPM or Technical Certification or Equivalent

Minimum two (2) years working experience
Mechanic
Yard Operation Department – Machinery Installation
To carry out all type of machineries dismantling, services, repair, overhaul, renew and installation

To carry out main engine overhaul and alignment, crank shaft deflection check, pump and motor alignment

Service and repair all type pumps and valves

Perform preventive maintenance for the tools and equipment being kept custodian by the Machinery Installation Section

Performs any other works as may be assigned by Head of Section from time to time
Sijil Pelajaran Malaysia (SPM) or Technical Certification or equivalent

Minimum two (2) years working experience in Oil and Gas and Marine Construction industry in the capacity of Grade 3 Mechanic or above
Fitter
Yard Operation Department – Mechanical, Piping & Valves
Fabrication of pipe supports, pipe spools, elbow, flange and all kind of fittings in accordance with AFC (Approved for Construction) drawings including perform mark, cut with bevel as per standard practice, tack weld, grinding and power tools cleaning of joints before handing over to the welder

Installation of pipe supports, pipe spools, valves, and associated components

Perform pipe pickling (chemical cleaning), flushing and hydro-testing

Verify all piping components to ensure compliance with the piping material indicated on the AFC drawing

Performs any other works as may be assigned by Section Head from time to time
SPM or Technical Certification or Equivalent

Minimum two (2) years working experience in Oil & Gas and Marine
Construction industry in the capacity of Grade 2 Pipe Fitter or above
Environment Officer
Health, Safety & Environment Department
Provide Environment matter expertise to the management, employees, sub-contractors (registered) and clients of the company. To create, implement and maintain programs and procedures to facilitate a safer environment

Responsible for implementing policies and procedures to ensure compliance OHSAS standard and federal, state and local safety, health and environment laws and regulations

Monitor status of Company compliance and initiate corrective actions where required

Implement processes and procedures to promote accident prevention with the goal of eliminating work related injuries and illness and ensuring compliance with state and federal occupational and health requirements

Coordinates the technical and operational details of an assigned section and specialty within Environmental Health Safety Department

Implement, coordinate and track EHS training

Provides advice, consultation, and inspection in environmental specialty and service area

Evaluate survey reports and makes decision and recommendations for action to correct unsafe conditions and/or violations of Company's policies and/or state and federal environmental laws

Plaint liaison to federal, state and local authority; act as focal point of contact for correspondence, reporting and inspections

Maintain regulatory required EHS documentations including required monitoring, record keeping and reporting

Available at all times, during scheduled work periods for management/ response of EHS related emergencies

Keep the superiors informed on all matters relating to the EHS of the company on daily basis

Perform any other related duties which may be assigned by Manager and/or Senior Executives and/or Executives
STPM, Diploma or Equivalent

5 Years working experiences and knowledge in Schedule Waste Management

Environment Management System & Standard

NIOSH/EIMAS Competency Course Competent, Valid And Certified Environmental Professional In Scheduled Waste Management (CePSWam)
Supervisor

Warehouse Department
Accountable for WH stock accuracy and compliance with LSE procedures (Reception, storage, issuance, return & disposal is performed in a compliant and timely manner)

Ensure compliance with established procedures and Company Standards to maintain effective control over the physical product flow and storage for the warehouse and other inventory areas

Implement required documentation and labelling per Company Standards and local requirements

Maintain timely input to Entrepeneur Resource System (ERP) and ensure accurate stock transaction records

Proactive monitors and implements local strategies to reduce excess and ageing stock (specifically aim for reduction of Days Stock On Hand (DSOH) and slow moving indicators) for the assigned segments

Implement Cycle Count and Periodical Physical Counts: Plan Creation/ Posting of Adjustments/ Root Cause, and reporting as per Standard Operating Procedure

Perform periodical reviews of the Exception Reports in order to maintain data integrity in the Entrepeneur Resource System (ERP), including but not limited to: discrepancies between systems, unit price, aged open/ failed/ pending for approval/ unmatched transactions, inactive parts

Optimize warehouse bin locations to improve efficiency & safety

Implement, as applicable, advanced techniques (eg. kitting, Kanban, FIFO, 2 bin system) to improve local material management efficiency

Aim for continuous improvement and regular uses LEAN tools such as 5S exercise to improve WH efficiency and reduce waste

Communicate with management occurrences of warehousing failures (eg. damaged or lost goods) and participate in investigations and actions to prevent reoccurrence

Other duties as assigned from time to time
STPM, Diploma or Equivalent

5 Years working experiences warehouse/supply chain
Unless stated otherwise, positions are based in Labuan F.T.
Last updated: 2 June 2022
---
JOIN US
Send us your resume with a recent passport-sized photograph of yourself [n.r.] and a cover letter stating the job position and expected salary. Job seekers may also deposit their general resumes with us.
MAIL:
Labuan Shipyard & Engineering Sdn. Bhd.,
Human Capital Management Department (Recruitment Unit),
KM 9, Jalan Rancha-Rancha,
87000 Labuan F.T., Malaysia.
TEL: +6087 451 888
FAX: +6087 451 777
EMAIL: